Here is my DoomsDay Collection - an e-book (downloadable PDF) of stories and poems about worlds ending, changing and beginning. The collection does handle some dark topics and so is only for grown ups!
It is free at the moment especially for the Mayan prediction of a change of the ages 🙂 Just click the title below. It is dedicated to friends that left this world too soon.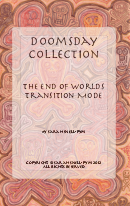 I hope you enjoy it.